We're moving in two weeks and yet I still have a pile of books to review. There isn't a single one in the pile I don't want to read and review personally, but I just can't do them all justice right now. So I NEED volunteers to read AND review a few books for me. Just a few paragraphs for a free book. It's fairly painless, I promise. :D The first one I have is
The Charon Covenant
by Brenda Munday Gifford. This is the only straightforward sci-fi book I have at the moment. It's small at 175 pages but has an interesting premise:
In The Charon Covenant, society has been forced to relocate to the moon (known as Earth II). The story's heroine, Dara Drew, discovers that not only can she not trust the government in this new society, she can't trust her neighbors, or her own brother as she accidentally discovers the ugly truth that turns their world upside down.
The next book I have is
Master of Shadows by Janet Lorimer. This one falls more into the "chick lit" category-- but hey, I love that too.
As a child, Ariel McPherson was warned about a ferocious creature that allegedly stalked the forest near her family's summer cottage during the full moon. But surely those were merely stories meant to warn a little girl of dangers that lurk in any wood? When her adult world collapses, Ariel takes refuge in the cottage. Forced to go on an errand of mercy during a night of the full moon, Ariel finds legend crashing into reality. She meets a mysterious stranger, Louvel, in the forest. He will not allow her to see his face, but still strangely captures her heart. Then Ariel's life is shattered by a mysterious death; secrets are revealed and suspicions raised. Ariel's search for answers endangers her own life. Louvel may possess powers that can protect and help her...or he may a beast more fearsome than any found in a fairy tale. And lastly I have Let Me In by John Ajvide Lindqvist. This one pains me the most to get rid of. I have read about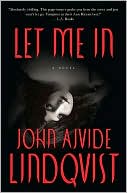 70 pages and it's very good. It definitely falls more into the category of horror fiction and Lindqvist has a wonderful, lyrical quality to his writing. I want to read this one a lot, but I have a lot of other books I'm obligated to read first and I hate to let this one languish on the shelf. Please only take this one if you really can do a review of this book. Swedish TV and stage writer Lindqvist's first novel is set in a commonplace suburb of Stockholm, where 12-year-old Oskar lives with his mother, is bullied at school, shoplifts, and keeps a scrapbook of notes and clippings about gruesome murders. Eli, apparently about his age, moves in next door but doesn't go to school, leaving the flat only at night. Shortly after, the killings start. At first more fascinated than sorry, since one victim had bullied him, Oskar eventually discovers that Eli is a vampire, stuck permanently in childhood. What should Oskar do, especially when Eli is his friend as much as anyone is? Lindqvist develops the plot in rich detail. The characters, adult and child, are quite convincingly the sort that one would probably cross the street to avoid in any city. Lindqvist also realistically depicts the aftermath of brutal homicide on the nearby: shock and horror, some sleepless nights and bad dreams, despite which you must go to work and get the groceries; eventually, the police leave the neighborhood. Leave a comment or email me if you're interested in reviewing any of these books. If I get multiple request, I'll do my standard pick-a-name-out-of-a-hat method of picking who to send the book to. Thanks in advance to anyone who can help!