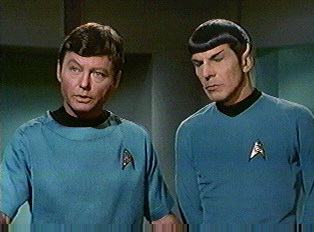 Sidekicks. The number two man (or woman) who offers advice and one liners. How boring our heroes would be without them. So in honor of the faithful sidekick, I offer a list. A sort of tribute to the loyal few who make the heroes look good.
Spock
&
Dr. McCoy
:
Okay, I know this is two sidekicks, but I almost feel that I can't have one without the other. The original Star Trek's Spock and Dr. McCoy (Bones) are almost like the angel and the devil on Kirk's shoulders; with Spock representing logic and Bones representing emotion. We all know the most famous lines the two characters utter
that is not logical... I'm a doctor not a .........!
and the show wouldn't have been the same without either of them. While Kirk was busy charging forward, these two characters were busily trying to make sure he made the right decisions; and bickering about it the whole time.
Samwise Gamgee

:

Talk about your loyal friend. I don't think friends come more faithful than Sam Gamgee from The Lord of the Rings. Not only does Sam insist on accompanying Frodo on his dangerous journey to Mordor, but he refuses to lose faith in Frodo. Sam somehow manages to be simple and wise at the same time; and it's because of this contradiction that he became one of my favorite characters in the LOTR series.
Robin

:

Poor Robin, always the bridesmaid, never the ...... never mind. Actually, Robin is pretty much the quintessential sidekick isn't he? Always there to help Batman and defer to the wisdom of the Caped Crusader. But didn't Robin often get short shrift in the Batman TV shows and movies? At least it always seemed that way to me. Though it appears that Teen Titans is doing what it can to make the character more cool. But I still love Robin for the simple fact that he is one of the first sidekicks I ever got to know. I grew up on the campy Batman TV show and loved Robin's holy......Batman! catchphrase.

Willow Rosen
berg
:
I know not everyone is a fan of the Buffy the Vampire Slayer series, but I enjoyed it. Willow was the best friend I wish I would have had; except when she went evil and started flaying people... But Willow was great. She was almost too sweet in the beginning but she was still fun; definitely the loyal friend who had the funny one-liners. It was interesting to watch her grow and develop as a character on the show. In fact, I thought she was more interesting than Buffy most of the time.
Hoban (Wash) Washburne
:
I don't know anyone (yet) who didn't like Wash. He seemed to be the guy who would raise his eyebrows at his Captain, but follow orders nonetheless. I don't know if he qualifies as an actual sidekick since the show was such an ensemble, but he did fit the personae IMO. Wash could be laid back or a little panicked depending on the situation, yet you could always count on him as the comic relief. I still pretend the end of Serenity never occurred.
Gabrielle
:
Xena is basically
one of my all time favorite guilty pleasures. I like the campiness of the show. Gabrielle was a great sidekick IMO. Starting out as an innocent idealist, she slowly grows more world-weary as the show goes on. But she never stops trying to get Xena to be a little more idealistic and, like many sidekicks, has more faith in the hero(ine) than Xena does in herself. There was always a kind of
wink wink, nudge nudge
quality to Gabrielle and Xena's partnership, but the mentor-protégé relationship is still prevalent throughout most of the show.
Starbuck
:
This is another character that I am not really sure if he
is a sidekick or another lead in the show. But as the best friend of the main character, I'm going to put him in the sidekick category. I loved the original Starbuck on Battlestar Galactica. He was an unrepentant womanizer, gambler and all around goof-off, but he seemed to have such fun. There are moments when I like the new Starbuck, but she is quite a bit more psycho (than the original) and seems to have left most of the fun behind.
Ron Weasley
&
Hermione Granger
:
Again, I have anoth
er duo. Harry Potter is obviously not everyone's cup of tea, but hey, it's a big seller, so lots of us like it, right? And I like Ron and Hermione. Harry is a hero with a lot of help: Ron throws himself right into the action with Harry and Hermione is always the one with the quick solutions. Like many sidekicks, Ron is forever living in the shadow of his friend, but gamely keeps his loyalty. And though Hermione is a bit of a know-it-all, she's still awfully handy in a bad situation. I think Harry Potter is in general a great story for kids and the relationship between Harry, Ron and Hermione is something that, as a parent, I like having as a example of great friendships for my own kids. As always, this is but a small sampling of some of my favorite characters from sci-fi/fantasy TV, movies and books. I'm sure I've left many off the list. So let me know who you think should have been included.