There are three type of cable movies: the ones you really want to see, the ones you never want to watch again and the ones you stumble across when you've eaten too much Taco Bell and you can't sleep.
Cyborg 2
is one of the latter. I stumbled across it on the Sci Fi Channel late one night and paused to give it a chance because I vaguely remembered the first one with Jean-Claude Van Damme being good. I hadn't seen that one since the early nineties and all I could remember was Van Damme kicking butt (like only he can do). The sequel exchanges a buff Van Damme for a sensitive yet sultry Jolie.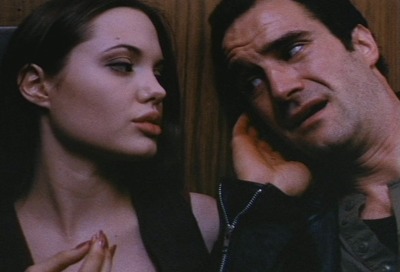 Cyborg 2 reminds me a low-budget version of The Island. It includes a not too distant future, an escape from an evil company and the two main characters spend a large portion of the movie being chased. Cyborg 2 is cheesy, no doubt about it. But for the sake of all things Angelina Jolie it was fun seeing her pre-Tomb Raider days. That got me to thinking, it's about time for her to do a new Sci-Fi movie. And one that doesn't have a "2" in the title. Let's see...maybe she could play the role of a woman with an extremely hot boyfriend who goes around the universe adopting poor orphan alien babies from different planets and basically ends up saving the world. Sound like a taker? You tell me.