You knew this had to come one day didn't you? I am a girl after all. When I was growing up there really weren't many female action hero's for a young girl to look up to. Mostly I remember
Wonder Woman
as played by the lovely
Linda Carter
and
Charlie's Angels
, another show populated by unusually gorgeous women--not that there's anything wrong with that.
For those of you born later, I refuse to even discuss the horrible travesty that is the Charlie's Angels film franchise as it is beyond awful.
But were these women really tough or merely ornamental? They certainly didn't have the well muscled physique we've come to expect of our more modern versions. Let me look back at some of the other TV shows and movies I grew up with.
Buck Rogers in the 25th Century had another beautiful woman star in Erin Gray. Her character, Wilma Deering, even had the rank of Colonel. And for the time, she was a strong character, though they did have a disturbing tendency to dress her in spandex. One other female character that stands out in my memory is that of Princess Ardala, played by Pamela Hensley. Ardala was a hoot though; a supposedly strong woman of the 25th century who was usually garbed in mid-riff bearing clothes while trying to force Buck to marry her. Riiiight. The Bionic Woman was a show that did it a little better IMO. I loved the Bionic Woman. Jaime Sommers was my idol. Not only did she have flowing blond hair, but the woman could out arm wrestle any man-- other than Steve Austin that is. But when you read the Wikipidia entry on the show, it is still kinds comical how chauvinistic the times still were. Apparently the show made a point to say that Jaime's bionic parts didn't cost as much as Steve's since they were smaller (can't have a woman being worth more than the Six-Million Dollar Man can we?). Wouldn't the technological advances required to make the parts s
maller make them more expensive? Just wondering. As a quick aside-- the absolute best part about The Bionic Woman had to be the fembots. If you think the Austin Powers' movies were the birth of the fembots, think again. Really great stuff.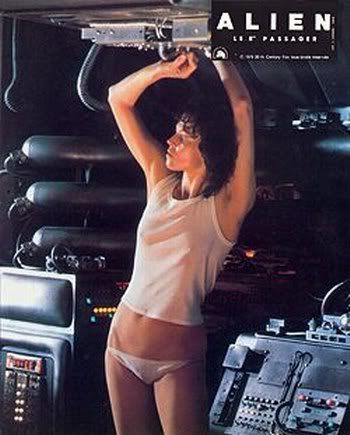 In the mid 80's Ridley Scott did give us one of the first really kick-ass female action hero's in Ellen Ripley played by Sigourney Weaver. Warrant Officer Ripley was definitely a different role for a woman at the time. She was smart, tough and certainly a survivor. But I do have to ask if the scene in her undies was really necessary? The mid 9
0's brought one of my all time favorite guilty pleasures, Xena. I love Lucy Lawless, even her name is great. For a girl brought up on women who seemed to spend more time on their make-up than anything else, Xena was refreshing. I didn't even mind the cheesy-ness of the show. Besides, despite her ululating yell and flips that sent her across the room, you really believed this woman could kick some serious butt. And the show also had one heck of a great female villain in Calisto. Buffy the Vampire Slayer first popped up in the early 90's in a movie but didn't really take off until the late 90's with a hit TV show. Like any other woman with 13 years of martial arts training I liked watching the many fight scenes in the show. I didn't even mind that it was about high school kids at first, though it could get a bit too precious at times. But it was fun and I'm always happy to see strong female characters. It seemed to b
e about this time that we really started to see more women who could convincingly throw a punch show up in the movie theatres. The Matrix was released in 1999 and featured a leather clad Carrie-Anne Moss as Trinity. I can't think of a movie scene that has been more parodied than that fight scene in which she does the floating crane, but hey, I wouldn't mess with her. At this point I could go on and on as more women are now taking roles in movies that feature their athletic potential. In fact I am beginning to think that it's become the role du-jour since so many women are trying their hand at it. Charlize Theron in Aeon Flux, Jennifer Garner in Elektra, Uma Thurman in Kill Bill, Halle Berry as Catwoman and Milla Jovovich in... pretty much all of her movies.. you get the idea. Not all movies or TV shows featuring female action hero's are that great, but at least it's being done. It's not always credible, but then most action movies aren't. I for one am glad that we seem to have moved on from the early shows where a female super-hero was still subject to chauvinistic remarks and was usually working as a secretary between rescues. Yep, we've come a long way-- I think. (Charlie's Angels Full Throttle??) If anyone else out there likes female action hero's, you may be interested to know about a new series starting April 13th called Painkiller Jane. This comic book based series stars Kristanna Loken, from Terminator 3. This one will be on my Tivo for sure.