On my Twilight Zone post
Crunchy Carpets
mentioned that a company claims to have developed a
quantum computer
that can prove the existence of parallel universes. Can you imagine?
I haven't been able to find a whole heck of a lot on the subject, so I can only guess that it's in the very early stages of development. But I am seriously wondering what this means.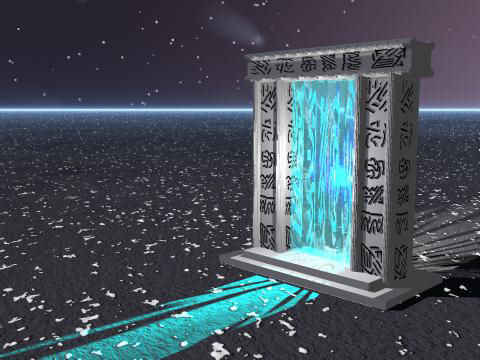 When I think of parallel universes I tend to think of books I've read that create whole new worlds that are in some way attached to ours; most books seem to rely on magic doorways. Take The Chronicles of Narnia for example. In The Lion, The Witch and The Wardrobe the Pevensie children discover Narnia through a doorway in an old wardrobe. The book was first published in 1950, so it may have been one of the first of its kind. But it is kind of classic in its literary formula. I've read tons of authors who have characters from our world step through a portal to another. Stephen R. Donaldson wrote a book about a woman who steps through a mirror in The Mirror of her Dreams. J.V. Jones has her heroine step into another world through the use of a magic talisman in The Barbed Coil.
And it's not just books that like to use the subject of alternate universes. Star Trek had an episode about a mirror universe in "mirror, mirror in which Kirk finds himself in a parallel universe with a goateed Mr. Spock. In fact, most of the Star Trek television shows featured the idea of parallel universes, or multiverses at one time or another. I remember the wormhole being a favorite method to shuttle members of the crew through space, time and alternate universes. So I wonder what will happen if this quantum computer works. What kind of parallel universes are they talking about? Will it be anything like what we've come to expect through our favorite books and movies or something completely different? And what will the impact on our world be? I can't help but find this incredibly fascinating, and more than a little scary.