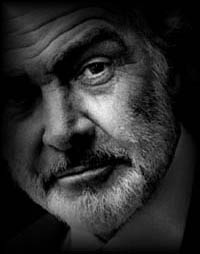 Sean Connery
. He was the quintessential Bond until Daniel Craig finally gave him a run for his money. And we love him don't we? It doesn't matter how many bad movies the man does (
League of Extraordinary Gentlemen
anyone?) this 76 year old still manages to make women love him and men want to be him. What gives him this power? This charm?
Perhaps it's the Scottish brogue. Or maybe it's simply the fact that the man has managed to be in quite a few movies. I tried to find a full filmography on the actor and it was kind of hard. Some lists show 85 movies or so and others only went to 60-something.
But if you think about it, he's been in a lot of movies, many of them big hits. Obviously we probably best remember him as Bond. The Goldfinger Bond with none other than Pussy Galore. Could any other actor of his time have managed to pull off using that name and make it sound anything other than pornographic? Somehow, I doubt it. And being a sci-fi site, I couldn't very well not mention films like Highlander or Time Bandits, but I also loved The Untouchables and The Hunt for Red October. And then of course, there's Indiana Jones and the Last Crusade.
Yes, to many people, Sean Connery is THE MAN. I don't know many people who don't like him or his movies. And no matter how many bad movies he makes (The Avengers, - Zardoz) we'll still pay good money to see him in a movie. So here's to the original James Bond. Long may he make movies, good or bad.