It has been brought to my attention that there are a number of
Harrison Ford
fans among the readers of this humble blog. Cool. I've been a fan since I saw
Star Wars
as a kid. I don't know about the rest of you, but Luke Skywalker never seemed as tough as
Han Solo.
Ford infused the character with a coolness that can't be faked; just as he brings a certain twinkle to
Indiana Jones'
eye.
Ford doesn't have the number of sci-fi/fantasy movies roles under his belt that Schwarzenegger does, but if you were to create a contest in which you measure quality vs. quantity, Ford wins hands down. The origin
al Star Wars trilogy is just one of the best series' of movies that has ever been made in my opinion. Though episodes I-III were a disappointment to me. And being in a blockbuster series doesn't guarantee a future in Hollywood, just ask Mark Hamill. I think what won me over about Han Solo was the bit of swagger Ford brought to the role. The guy is a bit of a scoundrel and generally speaking only looks out for himself. Over time he changes and I think it Ford does a good job of showing the progression of the character. One of my main complaints about the newest Star Wars trilogy was that the character of Anakin went through such an abrupt personality change. I never felt there was a natural progression. Ford manages to bring empathy to Han Solo without changing the essential character. Perhaps there was a bit of luck that landed Harrison the part of Indiana Jones, after
all it was originally offered to Tom Selleck. Fortunately for Ford, Selleck was unable to take the role and Ford became indelibly linked to the part. Indian Jones is another fun character. I loved these movies growing up and really can't imagine anyone else in the role. Indy can have a bit of the scoundrel in him too, but he's mostly a good guy. I love the way the character is a bow tie wearing teacher when he's not off looking for some artifact and a fedora-wearing, snake fearing adventurer the rest of the time. I also think Ford brings across the idea that Indy is winging it most of the time, never really knowing if his latest gamble will pay off. One of my all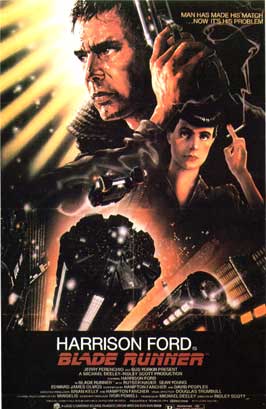 time favorite movies is Blade Runner, based on the Philip K. Dick book Do Androids Dream of Electric Sheep? (is that the coolest title or what?) Ford plays Rick Deckard, a retired bounty hunter who is hired to hunt down rouge "replicants," as androids were called. Some people I know don't like this movie that much, feeling the pacing is too slow. I like it though, it conveys a broodiness that I feel is in keeping with the storyline. This part was also very different that Han Solo. There isn't the cocky bravado he became known for in the other role and instead brought a certain weariness to the role. I can watch it over and over. Ford has done so many more movies than the one's I described here. But since this blog does have a theme, I'll leave off mentioning any others for now. Though What Lies Beneath has supernatural elements, it's not one of my favorite Ford films. Also, tell me if you think they will end up making another Indiana Jones movie. They keep promising to though I think it's been stuck in development Hell for quite a while. Do you guys think Ford is too old to keep playing the part? Frankly, he could be 80 and I'd go see it. But that's just me.