Usually when I think of topics to post here I try to think of stuff I really like and want to rave about. But every once in awhile it's fun to look back on some of the really cheesy stuff I grew up with. Honestly, I knew this stuff was corny even as a kid. It didn't stop me from watching it though.
B
arbarella was a bit before my time. It came out in 1968, a year before I was born. I admit I didn't really get it when I attempted to watch it. It was on TV and I am sure heavily edited due to what I now know are its heavy erotic overtones. But what I do remember was the cheese factor. I know there are people out there who still think it was great even though it starred Jane Fonda despite what appears to me to be funky special effects. So this could fit into the cult favorite category, it all depends on your taste. But somehow Angels in nests just don't do it for me; though I must admit having an 80's band (Duran Duran) name themselves after the main villain does give it a little more of a coolness factor. Flash Gordon is a movie I remember a bit better, the one that came out in
1980 that is. I also remember thinking the effects in this one were so bad. I think the bar for sci-fi special effects had been set in 1977 by George Lucas and Star Wars, so anything less wasn't going to do well in my book. And this movie was so over the top in everything; the costumes and even the theme music supplied by Queen. This is another one that is often described as a cult classic, though I don't think the cheese factor can be denied. Oh, and I love the ending shot that says "The End?" Love the question mark. Xanadu can best b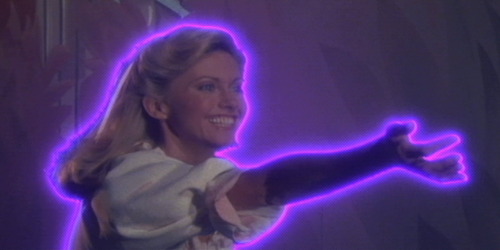 e described as a horrible movie with a great soundtrack. At least I thought so at the time. This movie came out in 1980 as well (apparently a great year for kooky sci-fi flicks) and I even went to the movie theatre with my best friend to see it. At most I would have been 12 and I can remember just dying for the movie to end. I think it was the roller skates that killed it for me. Gene Kelly wasn't even able to save this film for me, and I loved him even then from watching Dancing in the Rain.
Legend was a movie I really wanted to like, and kind of did. But hey, I was 15 and already a little into Tom Cruise.(he wasn't crazy yet) This movie had all the things a girl could want from a fantasy film; unicorns, princesses and fairies. It even had Tim Curry as the demonic villain, what's not to love right? But for some reason this one didn't completely work for me. According to Wikipedia the film was cut quite a bit for its American release which could explain it. And it also says that part of the set burned down and forced them to finish the movie with "hastily completed sets." Which is a shame since the movie had potential that was never really realized. So tell me what you think. Am I being unfair to these movies? And what movies would you add to the list?