I'm having a nostalgic week for some reason. So while I work on my next Nunchuk Nate installment, I thought I'd mention some of my favorite cartoons from my childhood. The good old days of humanoid cats, super cavemen and flying people of all kinds. Makes me misty eyed just thinking about it. I'm not necessarily one of those people who doesn't like anything that's on TV today. I actually think a lot of the new cartoons are pretty good. I like the Justice League and Batman, though as often as not I end up watching Sponge Bob with my kids. That qualifies as fantasy right?
But when I think of what I watched as a kid, I think of Voltron, He-Man & She-Ra, The Thundercats, Thundarr the Barbarian, Robotech and so on. Oh, and I have to make a special mention of my husband's favorite, Battle of the Plants. These, as much as anything else, influenced my adult taste in movies and TV. I mean, how could they not? There's no way I could possibly mention every cartoon I watched, but I can mention the one's I like best, and let you, the reader, tell me what I should have included.
The Superfriends were definitely the first comic book/sci-fi series I ever watched. I doubt I even have to describe it. I mean, you'd have to live under a rock not to know the Superfriends right? If you know Superman, Batman, Aquaman and Wonder Woman, then you basically know the Superfriends. Other characters, like Green Lantern, Hawkman, The Flash and Atom were brought in later too. And of course, you can't mention the Supefriends without mentioning the The Legion of Doom. Who didn't love the Legion of Doom? You had Lex Luthor, Cheeta, Bizarro and The Riddler, to name a few. I will admit I wasn't crazy for the non-super characters like Marvin and Wendy, but overall I loved the show. I watch reruns every once in a while, and it's much hokier than I remember. It's a shame adulthood makes critics of us isn't it?
The first one, after Superfriends, I remember really getting into was Thundarr the Barbarian Thundarr was kind of an odd combination of Conan the Barbarian with odds and ends from Star Wars thrown in. It was set in a kind of post-apocalyptic world that survived after a large asteroid went between the earth and the moon, causing damage to both. Thundarr's companions include Ookla the Mok, a Wookie like creature and Princess Ariel, a sorceress. Another Star Wars like element is his Sun Sword, which is basically a light saber. I wouldn't say Thundarr was my favorite, but I watched it and it kind warmed me up to the genre. I liked He Man and She-Ra a bit more. And being a girl, I really liked She-Ra. He Man is another Conan like character, though I was biased toward this one over Thundarr. I seem to recall it being a little more polished, so that may be why. He Man was the alter ego of Prince Adam, who could change into He Man by raising his sword and saying "by the power of Gray
skull....I have the power," Grayskull being the castle where the Sorceress, or "The Goddess" lives. The Sorceress being the one who gave Adam the power to transform into He Man. I think my favorite aspect of He Man had to be his cat Cringer, a cowardly green tiger that became Battle Cat when Adam changed into He Man. And like any girl, I loved princesses. And who could resist a princess who could turn into a super hero like She-Ra? Not me. The villans were different in both shows. I will admit, I remember Skeltor a heck of a lot more than any villian that was featured in She-Ra. According to Wikipedia, She-Ra's main enemy was Catra, a "jealous beauty." But my recollections are sketchy at best. But the memory of the show lives on.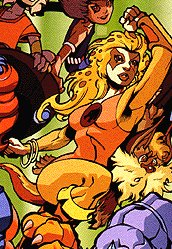 The Thundercats was a huge favorite of mine. And like any girl, it was all about Cheetara, the only female hero of the group. The Thundercats were anthropomorphic characters that were part cat, part human. There was Lion-O, the leader of the group who resembled a lion and carried a sword. Tygra, the second-in-command that resembled a tiger and whose weapon was the bolo whip that gave the power of invisibility. Panthro, the technical expert that looked like a panther and (here's one for you Nate) carried nunchuks that emit various gasses. And last but not least Cheetara, the only adult female (now, now, none of that) who resembled a cheetah, could run really fast and carried a collapsible quarterstaff.And of course Snarf, the nursemaid. Their enemies were mutants who were led by Mumm-ra.
Voltron was the first robot based show I really got into. This was also I think one of the first Japanese animated cartoons to really make it big in the U.S. It was basically about five pilots who commanded robotic lions that could be joined together to form Voltron. A later version used land, air and sea based vehicles but I always preferred the lion version. After Voltr
on came a show I really really loved, Robotech. This show is, in my opinion, what really brought Japanese anime to the U.S. It's been so long since I've seen it though, so I hate to admit that I can't give a definitive description of the show (sad huh). But I do know the show was based on alien technology that was adapted and used by humans to fight off alien invasions. I also kind of remember that it had a continuing story with, dare I say, a slight soap-opera feel. But I liked it, and often got up at 6:00am to watch it. I remember that much. No wonder my family thought I was nuts.
And lastly, I have to mention my husband's favorite, Battle of the Planets also known as G-Force. Whenever my daughter wants to watch this, she asks my husband if she can watch "the birds." She gets this because the characters wear outfits that look like bird costumes. Another show that came from the Japanese amime, there were five hero's, Mark, Jason, Princess, Keyop, and Tiny. They flew the ship the Fiery Phoenix, that did turn into something like a blowtorch. They protected the earth from all space dangers and their usual enemy Zoltar. Hopefully you didn't mind another trip down memory lane. I loved this stuff though and it's fun to look back. I really only gave the barest thumbnail of what the shows were about, but it's hard to go into too much detail without making the posts a mile long (and this one is definitely pushing the limit). If there's anything I missed that you feel is a sin to leave out, let me know. I'll be happy to add it. Post Script
I have to give credit where credit is due. Hey There Skippy has quite the memory and mentioned Wyliekit and Wyliekat. I'm getting old I guess because I just didn't remember them. But I always have to bow down to superior memories. So here's a picture of the characters in question. Skippy also had the superior sci-fi skills in remembrance of She-Ra and her enemies. So I must also include a picture of Hordak.