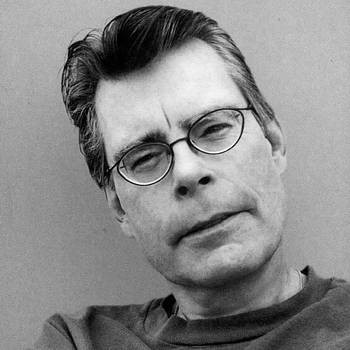 Since I am not a fan of horror films (too scary!) I've decided I'm going to instead make my Halloween post about the creepiest person I can think of.
Stephen King.
Not only does he write eerie books, but he looks rather spooky himself. Or is it just me?
I tend to go through spurts where Stephen King is concerned. I'll read something like 10 books in a row and then completely burn out for the next 10 years. You probably think I'm kidding, but reading 10 Stephen King books in a row is a LOT of Stephen King since the man often averages over 1000 pages a book. I do think he is a great writer when it comes to metaphors and analogies. The guy is nothing if not inventive. Though after reading about 10,000 pages, any sane person needs a break. I think the first of his books I picked up was Misery. This was before the movie came out and I didn't know what to expect. Misery isn't fantasy or sci-fi, though it is darned tense. But it generated an interest in me to continue reading his books.
The first supernatural thriller of his that I read was IT. If you have only seen the movie, then you have a good idea how scary the book is. Tim Curry as Pennywise the clown is terrifying. But the movie actually cuts a lot of the story out, as can only be expected by a book that's over 1000 (1004 paperback) pages, so a lot of the story is missing.((Spoiler warning)) One question I do have for the readers who have read this book is whether or not IT was actually a spider or not. Perhaps I was too literal minded when I read the book, but it sure sounded like a spider and I don't recall any allusions that it was a metaphor of some kind. But I have had people get very snippy if you say that IT was in fact, a spider. So please, help me out here. ((End Spoiler)) If you haven't read the book, the only thing you need to know is that the scary monster in the book is a clown much of the time. A creepy, sharp toothed clown. Between this book and the movie Poltergeist, clowns scare the crap out of me.
One of my favorites is Needful Things, which is the name of a store that is opened up in the town of Castle Rock Maine. (Most of King's stories are set in Maine, with Derry being another common location) The proprietor of the shop is named Leland Gaunt, a seemingly harmless old man who offers the townspeople objects of their desire, such as rare baseball cards or jewelry, in exchange for "pranks" to be pulled on other people in the town. It is implied throughout the book that Leland is Satan, though it's never directly stated. The pranks increase past the "harmless" stage and mayhem ensues. Normally I am not a big fan of short stories for some reason. But I do make an exception for Stephen King. I don't know why, but his appeal to me. In fact, I often enjoy the short stories a little more. If there are die-hard Kings fans, they may not like me for saying it, but I often feel as if his books fall apart at the ending. It's as if he spends a thousand pages building up the story but doesn't quite know how to wrap it up. I tend to think the endings are too abrupt and sometimes disappointing. So books like Four Past Midnight and Nightmares and Dreamscapes are ideal for me. They have the great fantasy elements I like without feeling as if I have invested so much time that anything less than spectacular will be satisfying. But even though I sometimes don't always like the endings, I still have read lots of his books. I've read The Stand which I think is one of his best. It's another long one, with the uncut paperback running 1168 pages. This one is basically about the near annihilation of the human race due to a "superflu." Over 99% of the population end up dead. The rest of the book kind of ends up as a battle of good vs. evil with and Antichrist type character and another who is the basic personification of good. That's a gross over-simplification, but hey, space is limited.
There are a ton more I could mention, like The Shining, Carrie, Cujo or Christine. But I'd like to give the rest of you a chance to tell me what you think about this master of the macabre. Tell me what your favorite books are, or your favorite Stephen King movie. Though taking on movie adaptations could easily be the subject of a whole new post seeing as some really suck, though there have been a few good ones. But anyway, tell me what YOU think. Oh, and recommendations would be great. I haven't read one of his books in awhile.